Knee Specialists in Houston and Cypress, TX
Are you suffering from any discomfort in your knee? If you are, please visit our knee specialists in Houston and Cypress. Our highly trained medical team provides reliable diagnosis, treatment, and follow-up care for knee pain, inflammation, stiffness, and other knee-related problems.
Our services include a variety of non-invasive treatments and physical therapy that may help you avoid surgery. To find out more, email us at info@crosspointemedical.com.
What Is Osteoarthritis and What Causes It?
Osteoarthritis in the knee occurs due to wearing away of the knee joint, and the problem usually (though not always) occurs after midlife. When the cartilage protecting the knee joint wears thin, the bones begin to rub against one another and cause pain. While osteoarthritis may develop in any joint, it is particularly common in the knee.
At our Crosspointe Medical Clinics, we offer advanced knee injection programs in Houston, TX, that can provide pain relief and prevent the need for full knee replacement surgery.
Symptoms of Osteoarthritis in the Knee
Osteoarthritis usually develops slowly and in stages. The following signs could indicate the onset of osteoarthritis:
You may find it difficult to bend your knee due to stiffness or inflammation.
The pain may worsen after sitting or walking or when you wake up in the morning.
Some patients may experience weakness or buckling in the knee.
The knee joint makes clicking, grinding, or popping noises when you move.
The pain may intensify during cold or rainy weather.
Our experienced doctors in Houston, TX, use the latest imaging technology and x-rays to check for narrowing of the joint space and changes in the bone structure.
Non-Surgical Treatments at Crosspointe Medical Clinics
As with any condition, our practice in Houston and Cypress prefers treating knee conditions by starting with conservative treatments before recommending surgery. Weight loss, regular exercise, and physical therapy can help strengthen the muscles that support the knee joint.
Low impact aerobic exercise like swimming, walking, cycling also helps reduce pain. Non-surgical therapy may also include ice packs, ointments, and knee caps,
Knee gel injections can also help provide effective pain relief. The dosage may vary from one to five injections depending on the severity of the osteoarthritis. 
After conservative treatments, the patient may not need surgical intervention anymore. For more information about knee injection programs near you, please contact our knee doctors in Houston and Cypress, TX.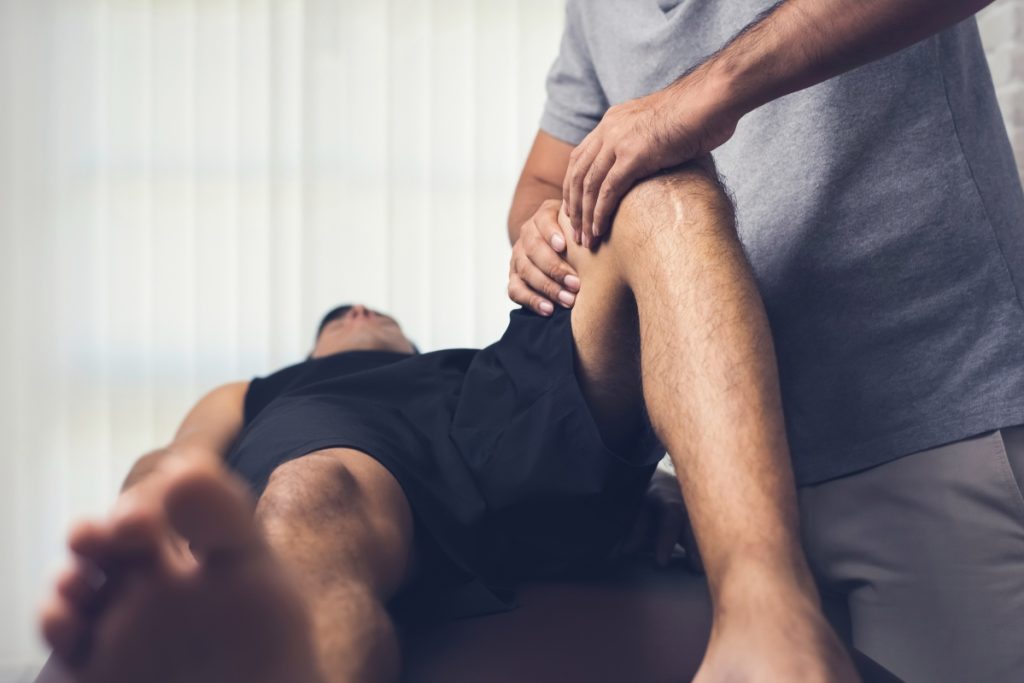 Highly Experienced Knee Specialists in Houston and Cypress
Our health practice in Houston and Cypress, TX is highly experienced in treating various knee problems. Our orthopedic doctors are equipped with the best medical technology for accurate diagnoses and effective treatments.
We're dedicated to giving personalized care. When approaching any knee-related health condition, our team takes a holistic approach and explores all treatment options to find the ones most suited for you.
If you have any problems relating to your knee, our team is here to provide comprehensive, patient-centric care. Set up an appointment today by clicking the button below and filling out our contact form.
In addition to knee treatments, we also offer services for a number of other health conditions. We treat physical impairments with physical medicine, family health care, hormone and weight control therapy. Our team will recommend a suitable treatment based on your needs.
We are proudly offering family health care & medical services to across various areas of the following locations of Cross Pointe Medical Clinic: